Freefly Alta X
The Alta X is a heavy lifter. The system has a revolutionary new active propeller system that extends flight time and reduces vibrations significantly. Freefly has pioneered drones for film for many years and the Alta X has been rigorously tested. The system can take camera packages up to 10kg, we use Movi pro or Shotover G1 gimbals. The Ronin 2 is also a good match.
takeoff weight: 

<35

 kg

flight time:

8-25 min

speed:

 

65 kmh

ceiling altitude:

 

3300m AMSL

(depending on payload)

cameras: 

Alexa LF, Alexa Mini, Sony Venice, RED 

etc.

lenses:

 

max camera package 10 k

g

filters:

 

max 3;  4x5,6"

lens control:

 

yes

remote camera control:

Options available depending on setup.

max wind:

12 m/s
---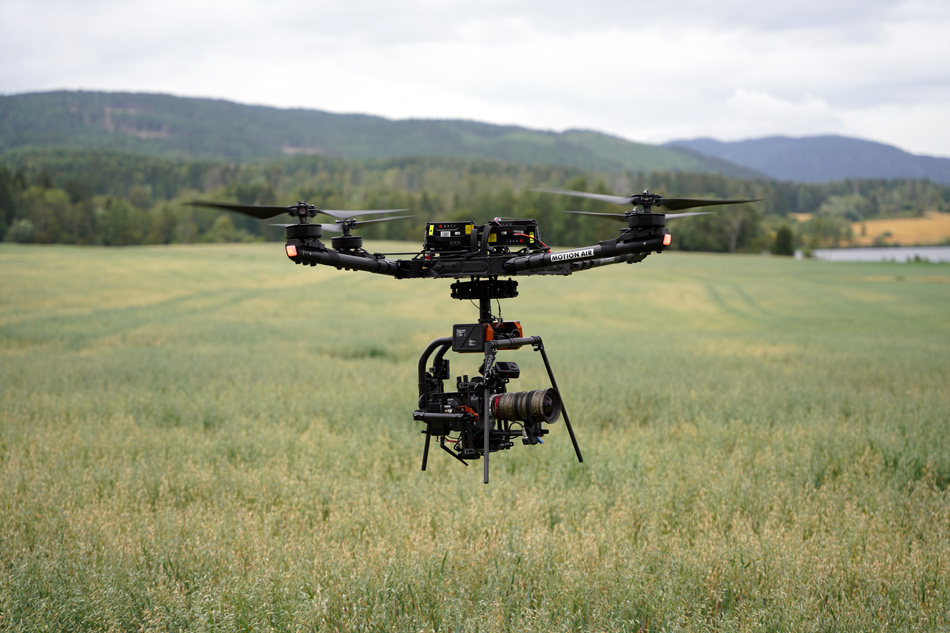 DJI Inspire 2 X7/X5s
The Inspire 2 is our lightweight aerial solution.
The Inspire 2 is capable of recording up to 6K RAW, Prores RAW and Prores 4444XQ. Check below for lens options in 35mm equivalents.
Flight time is aproxomately 20 minutes and it takes about 10 minutes from arrival until we are ready to shoot. We have enough batteries to fly all day! SDI and HDMI output on the ground ensures customers, DPs or director can have their own monitor.
X7 lenses:

24mm, 30mm,  50mm, 70mm

X5s lenses:

24mm, 30mm, 50mm, 90mm

takeoff weight: 

<

5 kg

flight time:

 

15-20 min

speed:

 

94 kmh

ceiling altitude:

 

5000 

m AMSL

cameras:

 DJI X5s / X7

lenses:

 

primes (we have all)

filters:

 

round type, ND 0.6 - 2.1

lens control:

 

focus

remote camera control:

 

full

max wind:

15 m/s
---